distro tapes
$

5.00
On sale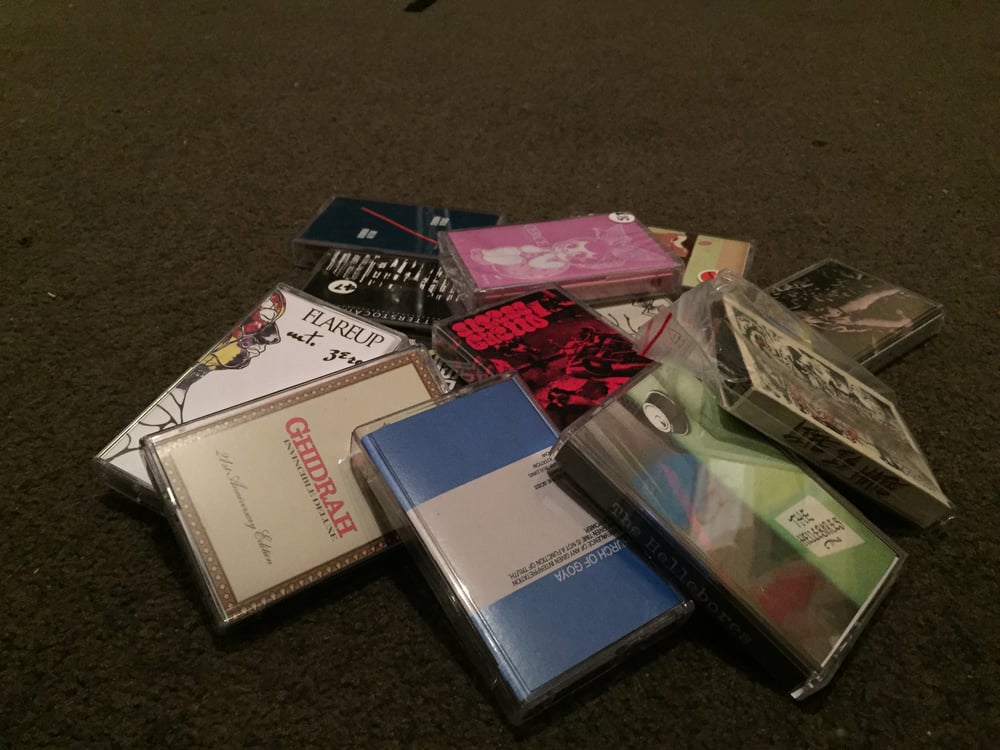 these are the distro tapes we've got at the moment. Please refer to the different options to find out the releases currently available. The availability of releases is subject to change as we regularly take our distro to local shows.
ilill / Letters to Catalonia split - Japanese emo meets US emoviolence
https://letterstocatalonia.bandcamp.com/album/split-w-ilill
Chalk Horses 'Helen Mirren' - This posthumous release from Chalk Horses, the shortlived band born out of the ashes of Wellington band, Rifles, shifted focus from the punk infused indie of their previous band to a loop based approach more akin to the slowcore of Low, or even the trip hop sounds of Portishead. This double A side cassingle release showcases two beautiful and ambitious tracks from a lost album that hopefully will resurface one day.
https://pressgangrecords.bandcamp.com/album/helen-mirren-beckhaus
5000 '赤線' - Japanese emoviolence at its best!
https://5000tokyo.bandcamp.com/album/-
Life is Hate - Nuggety, noisy d-beat from Aotearoa New Zealand
https://lifeishate.bandcamp.com/album/8-track-ep
Disparo 'Co-Exist' - Australia's fastcore punks from disparo doing what they do best. Playing a bunch of songs really really fast that is.
https://disparoplayfast.bandcamp.com/album/co-exist-3
Mt. Zero / Flare Up split - Fast and furious powerviolence from Melbourne meets raging hadcore punk from Indonesia in this split demo cassette.
https://nakednoiserecords.bandcamp.com/album/mt-zero-flare-up-split
Cerce 'Discography 2011 - 2013' - Complete discography of all songs by the short lived Massachusetts band. They are a little bit dear at $15NZ but it's 23 tracks of awesome raw and energetic punk, mixed with a lot of noisy and chaotic elements. Also, all proceed the band made from these tapes were donated to Planned Parenthood in 2017 and getting them to Aotearoa was stink as expensive.
https://cerce.bandcamp.com/
Hairy Palm vol. 2 compilation - This comp features seven contemporary Aotearoa New Zealand punk and hardcore bands, including Auckland's Long Distance Runner, and Wellington's powerviolence outfit Stress Ghetto SOLD OUT
Corpse Rat s/t - This self-titled tape by Corpse Rat comes packed with 5 songs of gnarly blackened, fermenting the perception that Wellington might well be Aotearoa's crust-capital.
https://razoredraw.bandcamp.com/album/corpse-rat
We Watch Clouds 'resumé' - We Watch Clouds from Poland play dark screamo, melting emoviolence sections into more open drawn out passages.
https://wewatchclouds.bandcamp.com/album/resum
Church Of Goya EP - post-punk from Wellington. The dirty tape hum will bring out the best in their already noisy take on the genre.
https://goyamusic.bandcamp.com/album/ep
NO NZ compilation - this 2017 DIY hardcore punk comp. features 8 band from both islands of Aotearoa, including Hamilton's Spiteful Urinator, Wellington's Stress Ghetto, and Dunedin's BusPuncher
https://razoredraw.bandcamp.com/album/no-nz
The Hellebores s/t - Palmerston North's Hellebores play pretty straight up punk rock. Seemingly, they take turn doing vocals with each of the three having a go on some song on the album.
https://razoredraw.bandcamp.com/album/the-hellebores
Stress Ghetto s/t - Wellington's Stress Ghetto play absolutely punishing, grindy powerviolence that does not have to shay away from comparisons with the likes of BOAK. Thrown through the songs are a bunch of utterly ridiculous samples and tape hiss won't go amiss to add another dimension on top of this incredibly noisy production.
https://razoredraw.bandcamp.com/album/stress-ghetto
Pantihero s/t - On this Razored Raw release, Wellington two piece Pantihero offer a fine (and very dirty) rendition of stoner sludge. Featuring only Drums, Bass and the occasional vocals thrown in here and there, Pantihero is all about riding the riff-dragon...
https://razoredraw.bandcamp.com/album/pantihero
Ghidrah 'Invincible Deluxe' 21st Anniversary Edition - Originally released in 1996, this is the 2017 tape re-release from Razorded Raw. The whole album is a clusterfuck of chaotic hardcore typical of the 90's, and it has definitely aged well.
https://ghidoragh.bandcamp.com/album/invincible-deluxe
Protest the Hero 'discography' (5 tape box set) - this beautiful collection, put out by Zegema Beach Records, includes all five Protest the Hero albums, on separate tapes: 'Kezia' + 'Fortress' + 'Scurrilous' + 'Volition' + 'Pacific Myth'.
¡¡¡Individual albums are also available on tape in the options below!!!
Under A Sky So Blue 'The Spectacle Provides' - Under A Sky So Blue are a three piece screamo band from Athens, GA. 'The Spectacle Provides' sees them move significantly in the direction of the likes of Letters to Catalonia in that they combine grinding fast sections with punishing break downs.
https://zegemabeachrecords.bandcamp.com/album/the-spectacle-provides
мятеж / Samarra split - A dark and seething split, USA/New Zealand collaborative project мятеж and Richmond, Virginia's SAMARRA each drop three tracks of chaos with some dreamy, chill passages. мятеж has released a plethora of splits and have members of Yaphet Kotto, Makara, Jenny Piccolo, The World That Summer and Swallow's Nest. SAMARRA are the wonderful folks in .gif from god, Truman, Caust, Majorel, This Land Is Now Dead and Tri-State Killing Spree.
https://zegemabeachrecords.bandcamp.com/album/samarra-split
Truman 'Ma Doi' - 3 lengthy tracks totaling 17 minutes of epic, driving, atmospheric and screamy-as-fuck hardcore. Beautiful and caustic, this juxtaposition serves the band well with explosive and menacing screamo held together with calm, serene interludes.
https://zegemabeachrecords.bandcamp.com/album/ma-doi
60659-c 'the next part is a blur' - 10 songs in 6 minutes, 60659-C's debut LP 'The Next Part is a Blur' is an absolute assault on the senses. Scorching Ricmond, VA emo-violence/chaotic hardcore from members that have spent time in .gif from god, Caust, Kaoru Nagisa, Majorel, Mothlight, Swan Of Tuonela and Ostraca, among others.
https://zegemabeachrecords.bandcamp.com/album/the-next-part-is-a-blur
OUT OF STOCK ------->>>>>Swallows Nest "Swallows Nest" A screamo band from New Zealand and Canada
The final recordings from the initial SWALLOWS NEST sessions when Dave was still in New Zealand. These four songs portray a range of emotions, but generally frustration, anger and screaming are at the forefront. Kinda screamo, kinda hardcore and kinda post-hardcore, the members have spent time in Machina Rex, Yung Nat$, The World That Summer, мятеж, Apostles Of Eris, etc. and go on tour with Crowning in Europe this summer.
https://zegemabeachrecords.bandcamp.com/album/swallows-nest
OUT OF STOCK